Michael Pakko's "broken record" of slow, steady growth for the Arkansas economy was played again at Tuesday's 2012 UALR Economic Forecast Luncheon.
Pakko told a room full of state business leaders at the Clinton Center's Great Hall that "the end is in sight in terms of recovery and lost jobs" but that the middle of 2012 saw an economic "mini-dip" that's added to the lingering recovery. He said the state economy should be back to pre-recession levels by 2014.
Pakko is the chief economist and state economic forecaster for UALR's Institute for Economic Advancement, and his forecasts highlight the school's annual economic conference sponsored in part this year by Arkansas Business and moderated by ArkansasBusiness.com Interactive Editor Lance Turner.
Pressed by an audience member, Pakko said he didn't believe the presidential election would impact the economy regardless of who is elected other than perhaps remove "political uncertainty" as a reason for future slow growth.
"It doesn't matter a lot who is elected," Pakko said. "There won't be much difference either way."
Economic policies are in place, he said, and whichever administration presides over a new Congress in January will take its time to review the big picture and even extend the Bush tax cuts for a year while it does so.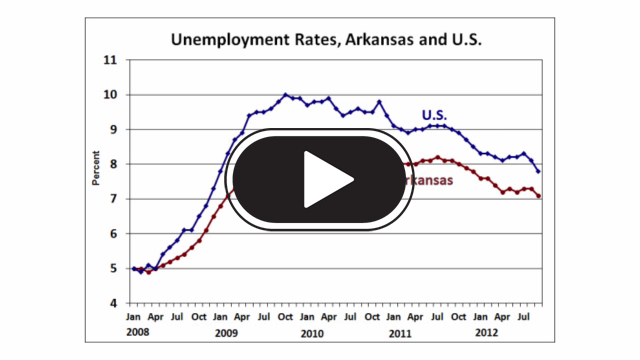 Pakko cited four reasons for the slow recovery in Arkansas, especially from late 2010 through the first half of 2011: shaky consumer confidence, political uncertainty, spikes in gasoline prices and storms, floods and droughts.
Pakko called the recent dip in unemployment numbers good news, but said he expected little progress through the remainder of this year and next. The jobless rate has mostly fallen throughout 2012 in Arkansas metros with the exceptions of recent upticks in Fort Smith and Jonesboro due to the loss of manufacturing jobs.
The Fayetteville area continues to lead Arkansas metros with a jobless rate of 5.5 percent as of July.
Pakko also forecast:
Home sales bottoming out at zero growth for 2012. "We're still awaiting a recovery in the housing sector," he said. "But there is a number of signs that suggest it's on the horizon." Those include record-low mortgage rates and a home-buying public ready to pounce, he said.
Weakness in the economy associated with the state's taxable sales, which were down in the first quarter of 2012. Personal income in the state is down more than originally thought, he said. Revised numbers indicate that personal income fell 9 percent during the recession as opposed to 7.5 percent.


Record yields for corn and rice in 2012. "Things are in better shape there, I think, than a lot of people thought."
Overall, Pakko compared the state economy to a roller coaster ride since the recession kicked into gear in late 2007. A free fall opened 2008, followed by improvement in early 2010, a mini-dip in July of last year, and slow, steady growth since.
"Things haven't changed a lot since 2009," he said. "We're still in a slow recovery phase."
Chris Varvares, senior managing director and co-founder of Macroeconomic Advisors in St. Louis, delivered a national economic outlook to open the conference. It didn't differ much from Pakko's state forecast.
Varvares' U.S. forecast is "cautiously optimistic."
"The darkest days are behind us," he said. "We're on an upward trajectory. I do expect the economy to improve."
Risk taking is coming back slowly, he said, and "that's the key to economic growth."
Varvares said that in terms of economic growth, less of a negative is positive, and that's what he sees ahead nationally. He forecast the S&P to hit 1750 by the end of 2014 and advised stocks over bonds.
"The risk is to the upside," Varvares said.
See Pakko's full presentation at his blog, ArkansasEconomist.com.