Down, set, HUT! You're the quarterback leading the charge to score some big (hopefully good) family memories this holiday season. Assessing the defense (or the family calendar) for the month of November, you realize you've got to set up your offense quickly before you get sacked and your quality family time gets gobbled up in the mayhem. Here's a sweet game plan for you to rack up some serious points with your family.
Pre-game Prep
Sit down with your family as soon as you can and look at the month ahead. Write down commitments, school projects, travel plans, etc. you already know you have. Schedule your family time in PEN. Guard it as precious.
Talk about everyone's wishes or goals for the holiday season. What are some things they really want to do, share, or accomplish? What are some lessons learned from previous holidays?
Discuss menu ideas for the month and ways the kids can help in preparation for the big meal. Plan menus for Thanksgiving Day and for Black Friday.
Discuss holiday behavior expectations including cell phone usage at Granny's or sharing the back seat with siblings without World War III breaking out.
Make a Handprint Turkey Thanksgiving tablecloth, a turkey shaped cookie dessert or a Signature of the Season tablecloth. Instructions in the video below: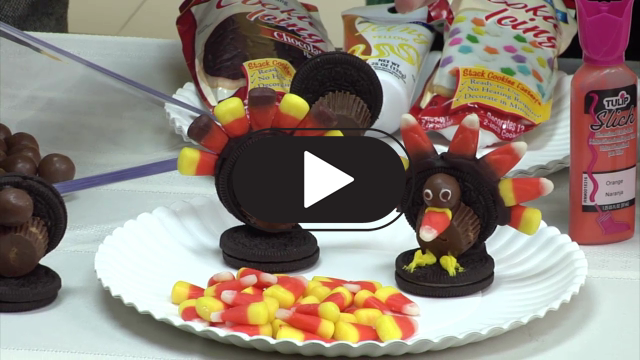 Thanksgiving Day
When all of your little turkeys roll out of bed, tune into Macy's Thanksgiving Day parade or pop in "A Charlie Brown Thanksgiving." Also, have an assortment of board games ready for them to enjoy.
Although cooking and football will likely take up most of the day, have a list handy of jobs that each family member can claim for their own. Post it on the fridge and have everyone check off tasks as they are completed. Examples include setting the table, stirring the gravy, putting ice in the glasses, announcing when dinner is ready, setting the timer for the turkey, and turning off the television.
Mealtime discussion topics: Of course it's great to go around the table and discuss what you are thankful for, but here are a couple more ideas. Since you'll probably have people at the table from several generations, conduct some Thanksgiving interviews. Ask questions like "Where did you live when you were my age? What was your school like? What was your favorite food or toy? How did you celebrate the holidays?" You can also discuss family plans to get involved with a community service project.
After the meal, have everyone take part in the clean-up. This will reduce exhaustion and resentment. Be sure to tell everyone thank you for their part in the process.
Get outside and play a family game of touch football or go for a walk, bike ride or other fresh air brand of fun. If football on TV is what the group prefers, every once in a while do Turkey Take Off Timeouts. This is where everyone races to see how many jumping jacks they can do during commercial timeouts. Burning calories during family fun is fabulous!
After the Thanksgiving Meal
Although grazing on leftovers is always a delicious endeavor, here's a creative idea for making the most of what didn't get eaten the first go around: Have a Holiday Super Hero Movie Marathon. Create a super long, super hero sandwich by purchasing loaves of bread, cutting them long ways and arranging them end to end across the dining room table. Have everyone help 'build' the enormous super hero sandwich. Warm up the side dishes, and dive in. Choose an age-appropriate flick or two starring your family's favorite superheroes, and snuggle up at the end of a long day of making memories!
Family Fun Black Friday Pointers
You may be one of those die hard deal seekers who enjoys hitting the stores with the other early birds the day after Thanksgiving. A lot of tweens and teens like to get it on the action too. Here are some pointers to help you get the most of the mania and have a little family fun while you're at it.
Make a game plan ahead of time. This includes who will be going with you, how much you will spend and for whom.
Get some rest the night before.
Breakfast should be high in protein. Stay well hydrated.
Be prepared to be patient. There will be long lines, crowds, and unfortunately grouchy people to contend with. Keep the mood light and enjoy your company.
Shop with a list and bring along any sale ads you collected. Beware of deals that are actually duds.
Check return-policies at each store.
If you're too pooped after Thanksgiving to brave Black Friday, you can always shop on-line on Cyber Monday.